ABOUT BACKWOODSMAN MAGAZINE
Backwoodsman Magazine was started in 1979 and is published bi-monthly.
We are dedicated to preserving Old Frontier living, primitive hunting and fishing, tool and weapons lore, and wilderness survival.
Each issue includes articles, information and how-to projects associated with this unique period of North American history.
How to build shelter, canoes, firearms and bow-and-arrows and more…
How to fabricate clothing, create tools and other gear necessary for life on the frontier…
Survival techniques, fire-building, cooking…
Primitive hunting and fishing…
Native American lore…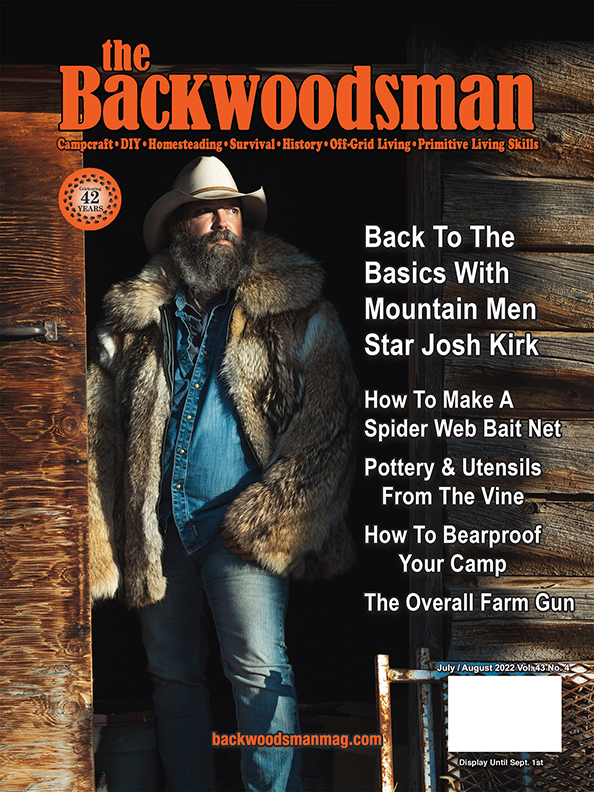 The Backwoodsman is published 6 times annually. Our current distribution is 160,000 and we enjoy one of the highest renewal rates in the magazine publishing industry. Through our website, our customers have the option to order new print and/or digital subscriptions and renew existing subscriptions. Customers also have the option to call our toll-free number (1-866-820-4387) to order and renew subscriptions. In addition to magazine subscriptions, we also offer the Best of Backwoodsman, Backwoodsman Back Issues, and Backwoodsman Merchandise. Please visit www.backwoodsmercantile.com to order any of these products.
BACKWOODSMAN MAGAZINE STAFF
Publisher/Editor/Digital Editor/ Review Editor/Media Relations –  Charlie Richie Jr.
Business Manager/Advertising Director –  Tiffany Richie
Web Design – Studio X
Graphic Designers – Tim Acosta, Jasmine Quinsier
Newsstand Distribution Consultant – Joe Luca
Special Contributors
Dave Canterbury
Creek Stewart
Josh Kirk
Staff Editors
Christopher Nyerges
Winston Foster
David Langerman
Rich Creason
Tom Rogers
Mark Hatmaker
Jim House
Scott Siegfried
Robert Dunn
Honorary Staff
Founders: Charlie Richie Sr. and Lynne Richie